Canada is a world leading location for pharmaceutical and medical device companies to conduct their clinical trials. Both publicly available information and testimonials from leading global companies doing research in Canada show why many companies choose Canada for their clinical development projects based on its unique combination of quality and efficiency.
1.As of October 2014, there were 2,971 active clinical trials in Canada. Canada has the highest number of active clinical trials per capita among G7 nations.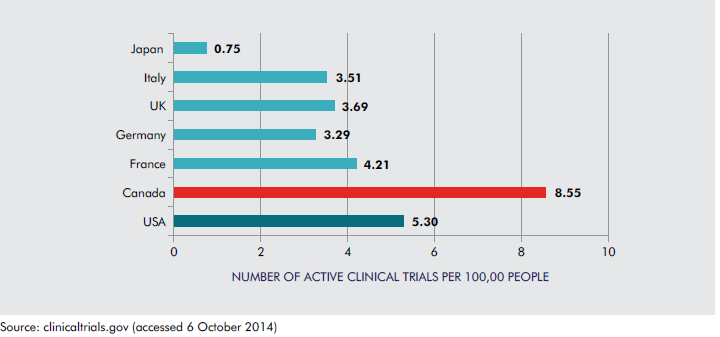 2.Canadian clinicians are conducting clinical trials across all major therapeutic areas.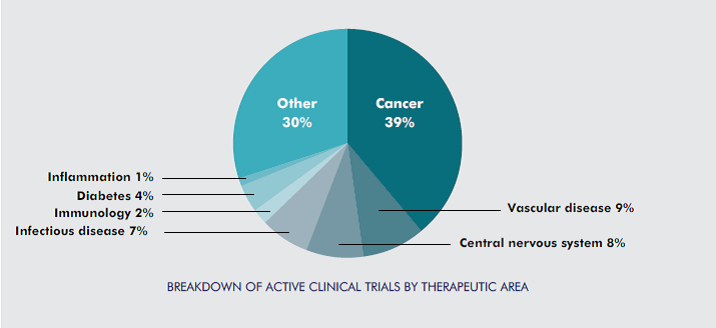 DIVERSE POPULATION SUPPORTS BETTER CLINICAL TRIALS

Canada, with a population of almost 35 million people, has one of the most ethnically diverse populations, which greatly assist with studies that require large, genetically diverse pools of patients.
Having a greater diversity of patients enrolled in clinical trials can lead to enhanced drug development outcomes1 and Canada has the diversity to support enrollment goals.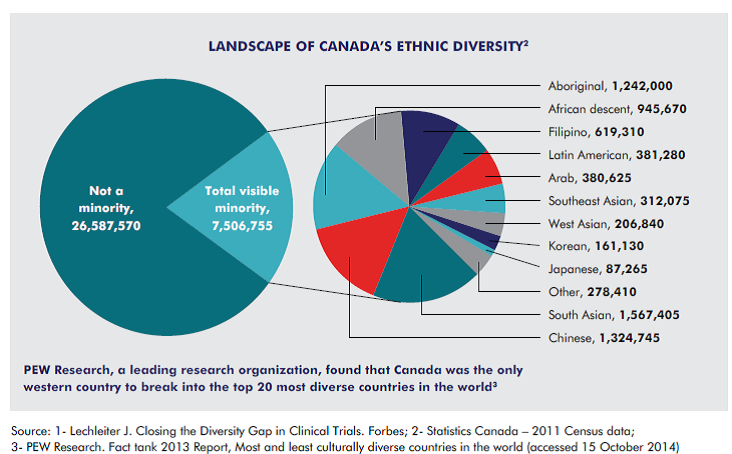 UNIVERSAL HEALTHCARE SYSTEM

The quality of care received by patients is world class and largely uniform across the country, with a per capita spending of $4,6761. On average, there are 2.1 doctors and 7.9 nurses per 1,000 people.

GLOBALLY RECOGNIZED UNIVERSITIES AND WORLD-CLASS RESEARCH HOSPITALS

The Canadian researchers highly for originality, impact and scientific rigor, demonstrating that Canada is internationally recognized for the integrity and importance of its scientific research. In 2014, QS World Rankings placed the University of Toronto, McGill University, University of British Columbia and McMaster University in the top 50 Universities in the world for medical research.
Canada is home to many world-class research hospitals, including Princess Margaret Hospital, Canada is home to many world-class research hospitals, including Princess Margaret Hospital.
Canadian health research centers are world-renowned for being on the cutting edge of research and development. These include Sunnybrook Research Institute, the Montreal Neurological Institute, the Montreal Heart Institute and the BC Cancer Agency.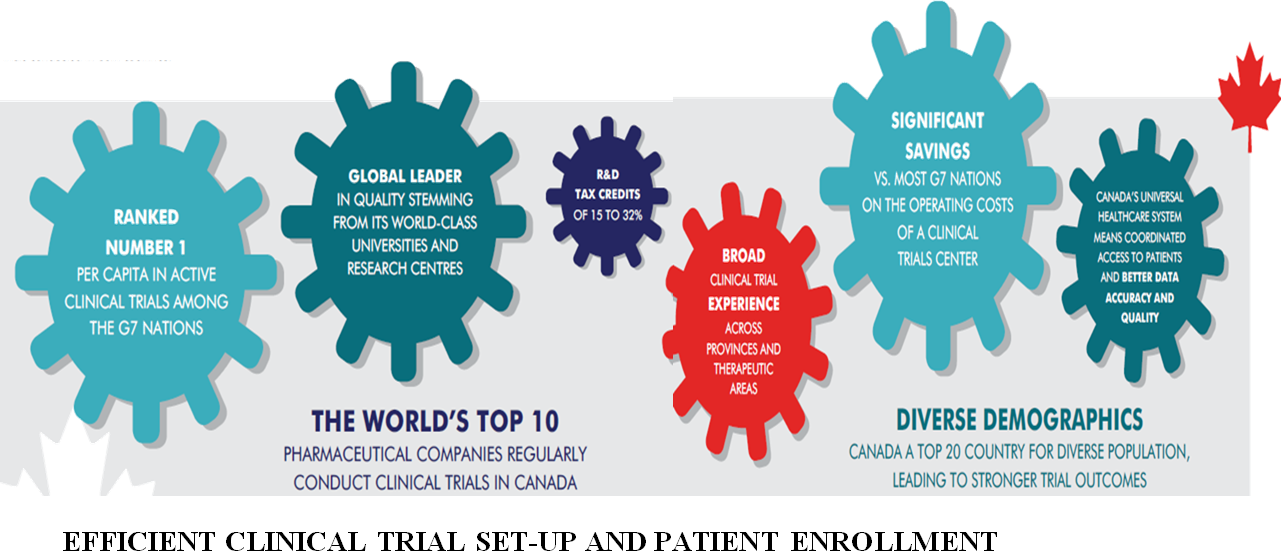 EFFICIENT CLINICAL TRIAL SET-UP AND PATIENT ENROLLMENT

An efficient regulatory process that fosters the prompt launch of clinical trials. In 2013, Health Canada achieved 99% of their target for all applications received.
Canada has several large research networks like NCIC Clinical Trials Group, Canadian HIV Trials Network, Maternal Infant Child & Youth Research Network, Canadian Neuromuscular Disease Network, Canadian Cardiovascular Research Network, Network of Networks, BC Clinical Research Infrastructure Network, and Alberta Clinical Research Consortium.
Trial sites are close to Canada's major population areas as well as to most of those in the US.

COST-COMPETITIVE ENVIRONMENT FOR THE DESIGN AND MANAGEMENT OF CLINICAL TRIALS

Building on already competitive labor and facility costs, the Canadian government has established major grants that support companies who perform their research and development activities in Canada.
The Canadian government has established tax credits which are awarded to companies that conduct research and development activities.